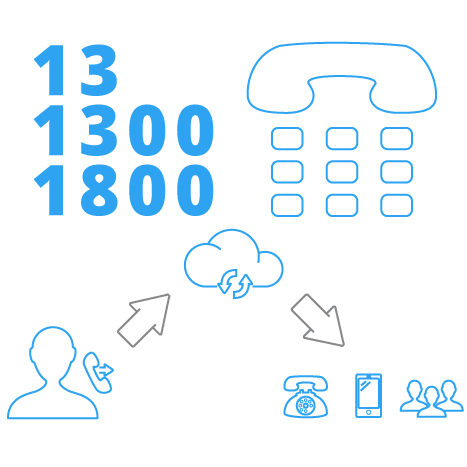 Competitive Rates Answer Anywhere Business Support
Your business should have just one number like it has just one website address. Never changing, portable, easy to remember, for you, your team and your customers.
Deliver and route calls to the local branch based on the caller's location or if the call is coming from a mobile or landline.
Follow the sun and receive calls from East to West based on your different office location operating hours.
Moving? No worries! Don't pay for stationary reprints again because your number will stay the same no matter where you relocate to within Australia.
One number to
rule

them all

An Inbound service with Telair is the perfect solution for your business. Why? You get one easy to remember number which adds that extra level of professionalism and can take calls when you're in the office or on the go.
You're spoiled for choice
Choose a 1300 number for that competitive edge, or go the extra mile with a 1800 number – your callers will love you for it! Want the best of the best? A six-digit 13/18 number might just be what you're looking for.
1300 Numbers
A ten-digit number starting with 1300 which usually has a small fixed cost to the caller when dialling from a landline. Mobile callers are charged a similar fixed rate or a per minute rate depending on the caller's mobile service provider.
1800 Numbers
A ten-digit number starting with 1800 that is free to dial from a landline and are starting to be offered free with certain mobile provider calling plans.
One3 Numbers
Usually called a "13" number, this is a six-digit number starting with 13 which is similar to a 1300 number. The main difference is the applied Government levy (called the Annual Numbering Charge), which is charged monthly in addition to the standard monthly access fee due to the premium nature of these numbers (not to be confused with Smartnumbers®, which are separate).
One8 Numbers
The least common of the four number types, a One8 (or "18") number is like a One3 number in that it is six-digits long, but like its 1800 counterpart, offers the ability for callers to dial the number without charge. Like One3, One8 numbers also incur a monthly Government levy.
1. Enter your details
Enter your details so we can check if an Inbound Number is the best fit for your business.
2. Get your results
During this step, we'll look at all of your available options to get you the best service possible, and then we'll be in touch to discuss the results.
Destination Hunt
Hunt calls to multiple destinations based on answer point being busy or after a preset amount of time.
Prefix-Based Routing
Route calls based on the caller's phone number prefix.
State-Based Routing
Route calls to a destination based on the state/territory of the caller.
Post Code Routing
Route calls to a destination based on the caller's postcode (based on the exchange postcode).
Mobile Tower Routing
Route calls based on the nearest mobile tower location.
Time-Based Routing
Route calls based on time of day and day of the week.
Ratio Routing
Route calls based on how busy your sites get (E.g x% to site 1, y% to site 2, z% to site 3).
Call Queuing
Queue the calls on your Inbound number and don't tie up local resources.
Note: Advanced features & Number Manager are priced on application.
Empower your business with real-time configuration & reporting
Number Manager
View all of your inbound numbers at a glance, with easy access to quick changes, reporting and advanced configuration tasks – all from the one easy to use dashboard.
Live Call Stats & Advanced Reporting
Get a complete picture of who is calling your inbound numbers, and when. View live stats to gauge current demand, or dive deep into historical trends with ad-hoc or schedule reports.
Included Reports

Total Calls Summary
Dialled Numbers
Target Numbers
Time of Day
Daily Intervals
Answer Time
Queue Summary
Caller Locations
Configure Extras
Easily configure your Telair Inbound Number in one simple to use configuration page that's packed full of features.