Inbound Phone Numbers: 13/1300/1800 Numbers
Your business should have just one number like it has just one website address. Never changing, portable, easy to remember, for you, your team and your customers.
Deliver and route calls to the local branch based on the caller's location or if the call is coming from a mobile or landline.
Follow the sun and receive calls from East to West based on your different office location operating hours.
Moving? No worries! Don't pay for stationary reprints again because your number will stay the same no matter where you relocate to within Australia.
Call Rates
Landline Terminating: 9c / Min
Mobile Terminating: 20c / Min
Minimum cost over 24 months: $480 + GST.
Government Surcharge may be applicable.
Rates above are GST exclusive.
One number to
rule

them all

An Inbound service with Telair is the perfect solution for your business. Why? You get one easy to remember number which adds that extra level of professionalism and can take calls when you're in the office or on the go.
You're spoiled for choice
Choose a 1300 number for that competitive edge, or go the extra mile with a 1800 number – your callers will love you for it! Want the best of the best? A six-digit 13/18 number might just be what you're looking for.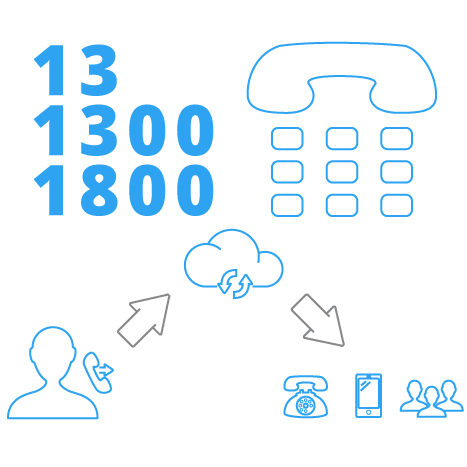 1300 Numbers
A ten-digit number starting with 1300 which usually has a small fixed cost to the caller when dialling from a landline. Mobile callers are charged a similar fixed rate or a per minute rate depending on the caller's mobile service provider.
1800 Numbers
A ten-digit number starting with 1800 that is free to dial from a landline and are starting to be offered free with certain mobile provider calling plans.
One3 Numbers
Usually called a "13" number, this is a six-digit number starting with 13 which is similar to a 1300 number. The main difference is the applied Government levy (called the Annual Numbering Charge), which is charged monthly in addition to the standard monthly access fee due to the premium nature of these numbers (not to be confused with Smartnumbers®, which are separate).
One8 Numbers
The least common of the four number types, a One8 (or "18") number is like a One3 number in that it is six-digits long, but like its 1800 counterpart, offers the ability for callers to dial the number without charge. Like One3, One8 numbers also incur a monthly Government levy.
Destination Hunt
Hunt calls to multiple destinations based on answer point being busy or after a preset amount of time.
Prefix-Based Routing
Route calls based on the caller's phone number prefix.
State-Based Routing
Route calls to a destination based on the state/territory of the caller.
Post Code Routing
Route calls to a destination based on the caller's postcode (based on the exchange postcode).
Mobile Tower Routing
Route calls based on the nearest mobile tower location.
Time-Based Routing
Route calls based on time of day and day of the week.
Ratio Routing
Route calls based on how busy your sites get (E.g x% to site 1, y% to site 2, z% to site 3).
Call Queuing
Queue the calls on your Inbound number and don't tie up local resources.
Note: Advanced features are priced on application.
Things you should know...
General Terms
1. All prices are exclusive of GST.
2. Government Levy is applicable to all 6-digit 13 numbers which incur a charge per month as per the Telecommunications (Numbering Charges) Act 1997, please refer to www.ACMA.gov.au for further information.
3. Total minimum commitment over 24 months is $480 plus any applicable Government Levy.
4. All porting is subject to the terms and conditions of the Agreement, you may port your service number if that service number is declared portable under the porting requirements legislation, administered by the applicable Regulator, and no exemption from such obligation has been granted.
5. Early termination fee; if you choose to cancel your service or it is disconnected for any reason within the 24 month contract term you will be charged an early termination fee comprised of your minimum monthly commitment as per your agreement with us multiplied by the months remaining in your contract.
6. If the service has been cancelled and you request us to reconnect, you are not guaranteed you will receive the same number. If you have acquired a number via an Auction site, you undertake to make sure that the Australian Communications and Media Authority Register correctly reflects the details of your application. If there is any discrepancy, we may not be able to provide you a service on your auction number.
7. If you are porting your One3 (13), One8 (18), 1300 or 1800 number to us, the porting of your service number will be conducted in accordance with the INMS business rules.
8. In using the service, you must comply with any rules imposed by any 3rd party, whose content network or services you access using the service or whose network your data traverses.