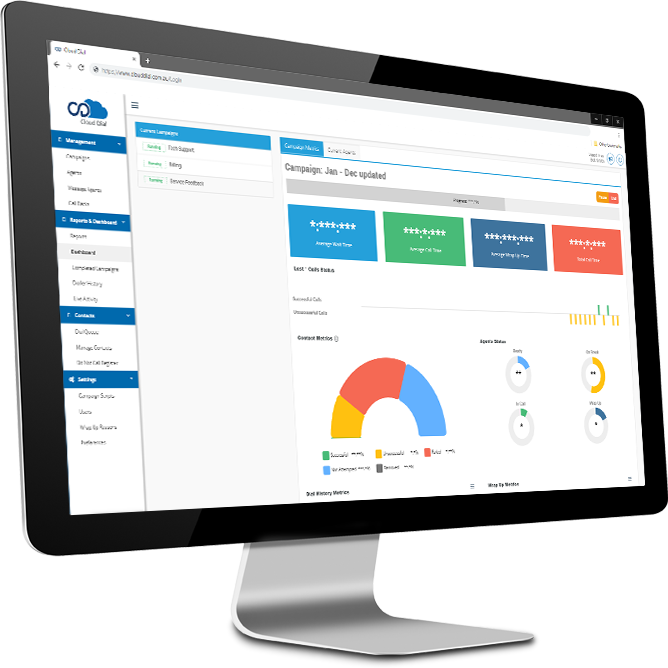 The Essential Call Centre Tool
Cloud Dial is the essential Call Centre tool; letting your agents focus on the conversation and leaving you free to focus on your Call Centre operations.
Working along side the uPBX Hosted Voice Platform, Cloud Dial is a full featured hosted dialler.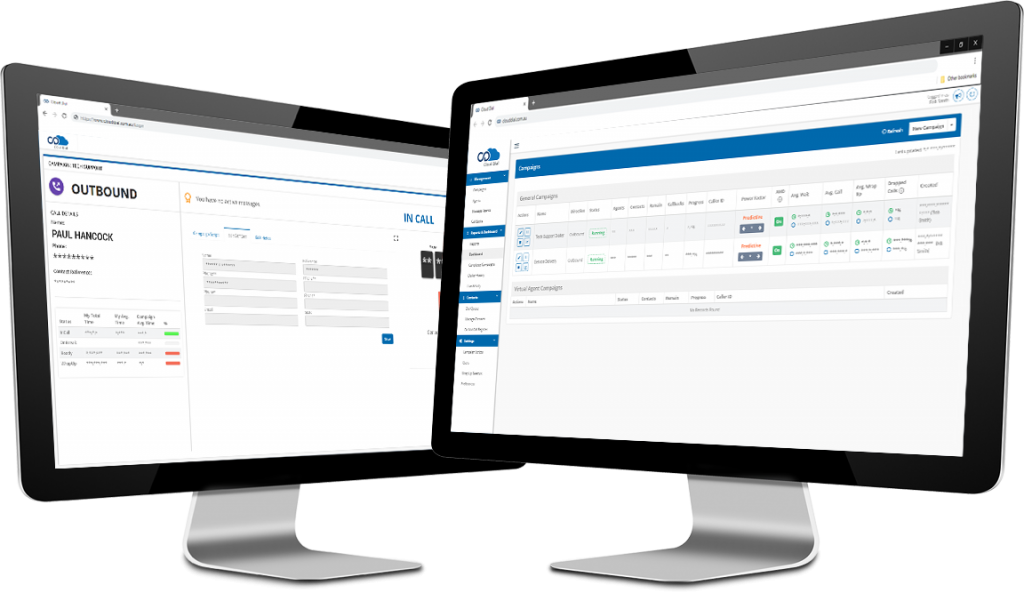 Key Features Include:
Answering Machine Detection
Live Activity Monitoring and Call Recording
Skills-Based Call Routing
Contact/Campaign Wrap Up
Predictive Dialler
Real-Time Reporting
Fully Integrated Solution
As a fully integrated solution, Cloud Dial is comprised of a dialler (Predictive or Power), advanced call recording, optional call encryption, and powerful real-time reporting.
Telair Cloud Dial was designed with ease of use in mind, allowing you and your agents to get up and running with minimal onboarding or training required.
Answering Machine Detection
Answering Machine Detection frees up your Agents from leaving voicemails and allows you to leave a pre-recorded voicemail whenever an answering machine is detected.
Proactive Monitoring & Reporting
As a manager, keeping an eye on your running campaigns and agents is critical. Telair Cloud Dial lets you keep track with ease, using our innovative Dashboards and management tools.
Contact Management
Cloud Dial comes with a powerful Contact Manager that lets you categorise, sort and search through your contacts efficiently.
Predictive Dialler
Maintain exceptional utilisation and cost efficiencies in the contact centre with our intelligent outbound call system.
Campaign Blaster
Just set and forget with Campaign Blaster; our fully automated, no-agent, outbound campaign type. This campaign will make outbound calls with your pre-recorded message.
Activity Monitoring
Take a birds eye view of your campaign at any given moment, with live stats, overviews and agent data. This empowers you to make real-time decisions and rapidly improve performance.
Call Recording
Ensure full compliance and improve your agents' KPIs with our powerful Call Recording feature. It's also fully PCIDSS compliant, allowing agents to 'mute' a recording while taking payment or other personal information.
Skills-Based Routing
Cloud Dial lets you intelligently route calls to agents based on their skill set. Save time and energy routing calls around the business.
Wrap-Ups
Empower your agents with simplified wrap up by ending calls and specifying wrap-up reasons with the click of a button, specifying the outcome of the call for simplified reporting.
Security Focused
We understand that your data is one of your most prized assets. This is why we make sure all traffic is routed through secure HTTPS connections and backups are performed regularly, housed on multiple secure servers within Australia.
Find out more
today
Contact Telair for a full service quote, Hosted PBX demo, or even just to say hi!