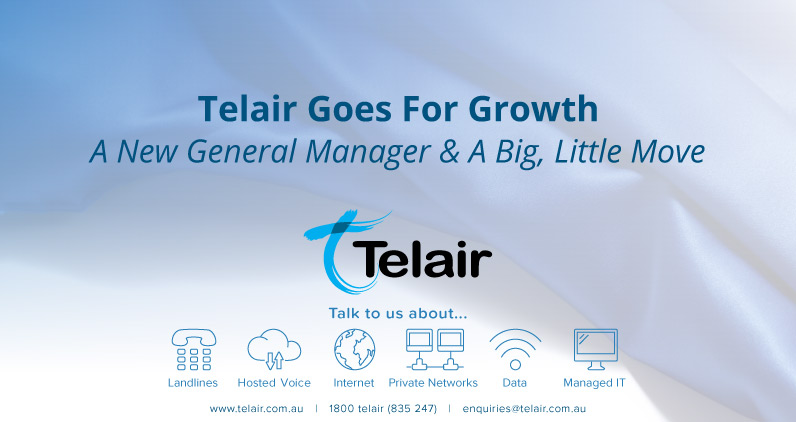 Murarrie (Brisbane), Queensland: Telair Pty Ltd, a Cloud Telecommunications and Managed IT Service Provider, today announces the addition of Chris Bateman to its management team as the company's new General Manager. Chris brings with him over a decade of telecommunications industry and general management experience. He will work closely with Telair's Board of Directors to review, update and implement Telair's business strategy, while also looking extensively at automation to form the basis of sustainable business growth and innovation.
"This is an exciting time for Telair. Chris will help drive our expansion plans, made possible by the rapidly expanding market of affordable Cloud Telephony, High-Speed Business Internet/Data and Managed IT services. We have also recently made a number of acquisitions with a new office opened in Perth. Telair's continued growth will be based on our innovative solutions, comprehensive services and premium support for our customers and partners."
— Edward Wenman, Managing Director – Telair Pty Ltd
Telair is also expanding into new offices located close to its existing premises, significantly increasing the size of the company's Brisbane Head Office. The relocation into a larger office space will accommodate Telair's growing team which has already increased significantly since the company was formed in 2006 and is set to double in size during the next 5 years.
About Telair: Telair is a telecommunications and IT service provider delivering innovative cost effective solutions for customers throughout Australia. Established in 2006, the company has offices in Brisbane and Perth and supplies a full range of telecommunications services to business customers, including business grade CloudPBX, uPBX, Corporate Data and Managed IT solutions.
Want to know more? Why not look around our website and see if there's a product or service which your business can benefit from. We provide business-grade telecommunications and managed IT services at highly competitive rates, and would love to provide a comprehensive quote personalised to your business.